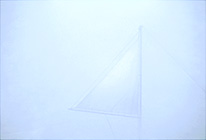 These photographs were made using the finest grain Kodachrome and Velvia films, a few as early as the 1970's.
My color darkroom work began with the then new Cibachrome photographic paper as that was the first to offer relative permanence in a direct print. Exposures were very long and control difficult. Later, when the product was relabeled as Ilfochrome, my print mastery was recognized internationally by Ilford in Switzerland. Then Epson first used the designation Photo for one of its inkjet printers, and I bought a computer. Even with the 35mm film scanned at the highest possible resolutions though, I continued to use a LightJet digital laser printer for a true photographic (light exposure) exhibition print. Not only did that provide an incredible sharpness, and at increased sizes, but more importantly the level of control was also better than what I might have dreamed. In layers to deconstruct the image for hue, saturation, and luminance, while separately for each necessary portion of an image, completely correct relationships for color and tone are achieved. With other techniques too, I spend uncounted hours. The mind's eye of experience must be used as the final product exceeds the original capture capacity of the film. For example, the result is a brightness of light on the surface of a lake that is manifest, the depth in an object or scene becomes evident. In 2002 this work was featured in the book Mastering Digital Printing, the first published on the subject.
Now inkjet technology has improved to something more accurately described as pigment-jet with a permanence better still than the photographic paper dyes. I've switched too for the superior gamut and color subtlety. All prints are made on the latest Epson Stylus Pro 7900 using the Ultrachrome HDR ink set. They are archival pigment prints.
The Reimagine New England Suite is a limited edition of four separate portfolios of a dozen 24x30 inch prints, each with its poem printed on the interleaf. With the size, the effect remains sharply true to a wonderful photographic realism at the viewing distance, while the choice of fine art Epson Exhibition Fiber Paper invites closer inspection for the more painterly "brush-work". They are, more simply, pigment on paper.
For further inquiry, please contact the gallery.